When the Nintendo 3DS was first released there were some really high hopes for more thank just gaming on the console. We know that one of the features that almost everyone polled wanted was the ability to use their Nintendo 3DS system to play back movies and other multi media files. While the DS and DSi didn't have the processing horsepower under the hood to truly enable Nintendo to add full media playback as a feature, the new Nintendo 3DS and 3DS XL were certainly prime candidates to allow movies on 3DS systems. The PSP and the newer Playstation Vita both had media playback. And the PSP came out at about the same time the DS and DSi did. It's no surprise then that gamers were looking to have an all in one multi-media system with the 3DS. Unfortunately, that didn't happen. You can however get around this limitation. Keep reading to find out how, and use our step by step tutorial to get your movies on your Nintendo 3DS for the ultimate portable movie player available.
Just how can you watch movies on the Nintendo 3DS? Well, that's exactly why the R4 3DS card was created - to bring new features and functions to your favourite hand held console. The R4, as you may or may not know, is the ultimate homebrew and development flash cart for the DS, DSi and now the Nintendo 3DS and 3DS XL systems. It enables you to load and play indie and freeware games and applications. These games and applications are not available on store shelves. They are created by the developers and given away free of charge for anyone and everyone with an R4 3DS card to download, play and share. It is with the help of our R4 3DS that you can watch movies on 3DS and 3DS XL systems.
Included with every R4 is a firmware / kernel file. Also included in this package (or available as a free download from our 3DS Homebrew section) is an application called MoonShell. Moonshell was created with multi media in mind. It allows you to take mp3 music, video files, ebooks, and various other file types to load and play on the DS, DSi and Nintendo 3DS systems. Our R4 and MoonShell turn your Nintendo 3DS in to truly portable, and truly multimedia system.
The DS, DSi and 3DS with MoonShell can use a video format called DPG. The actual codec is nDs-mPeG, however, people have been calling it DPG since its original release. The format has gotten so big that one of the premier video conversion software makers, Xilisoft, have actually created a video converter which will allow you to convert all of your video files to the popular DPG format, ready to be played back on your Nintendo DS, DSi and Nintendo 3DS system.
You'll be able to convert most video files to this format. All popular formats are supported and can be converted to DPG (AVI, MPEG, H.264/AVC, 3GP, VOB, DAT, WMV, MP4, DivX, MOV, RM, ASF, WMA, WAV, M4A, AAC, AC3, OGG, CUE, APE, and CDA) to DPG/DPG2/DPG3/DPG4 video or MP3/MP2 audio. The process is fast, and can done in just a few clicks. Please see below for our full step by step directions on how to use the DPG converter. And you can quickly and easily convert all of your video to DPG, and start watching your favorite movies and TV shows on your Nintendo 3DS, Nintendo 3DS XL as well as all DS and DSi models too.
Step 1: The first thing you'll need to do is download the Free software from the Xilisoft website. It's called DPG Converter and launch it. This software is for Windows XP, Windows Vista and Windows 7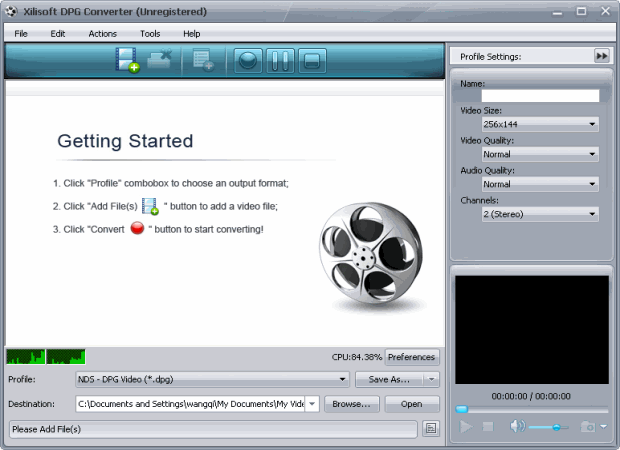 Step 2: Select the file or files you want to convert. The DPG converter supports virtually all video file types, including even FLV videos you may have downloaded from other video sites.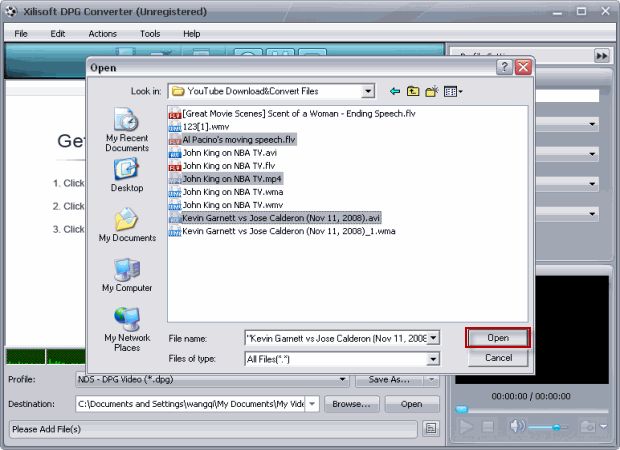 Step 3: Now that you've selected the video files you want to convert to DPG, slect the format you want the DPG converter to output for you and select where you want to save the converted video file on your computer.


Step 4: You can set some advanced profile settings, such a resulution, start time of the video, frames per second (FPS) and various other advanced settings. Most people just use it as it is, and convert it. The movies play back at full speed on the DS, DSi and Nintendo 3DS system: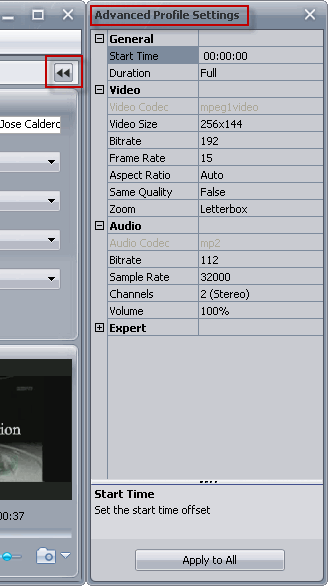 Tips:
1.The DPG Converter provides the function of saving your customized/commonly used profiles:

2.It has some other particular preferences, which are different from other DPG tools: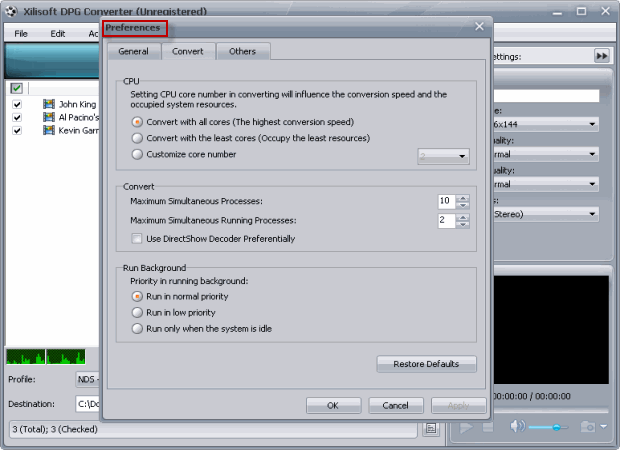 3.The DPG Converter has a bitrate calculator:

4.You can also set the "After down action": you can let the program exit, shut down computer,… after you've finished with the convert MPEG to DPG:

5. Another powerful function which is different from other DPG tools is: this DPG Converter support six kinds of languages:

Step 5: When you finish adjusting all the settings, just click the convert button, this easy but powerful DPG Converter will begin to convert MPEG to DPG for you: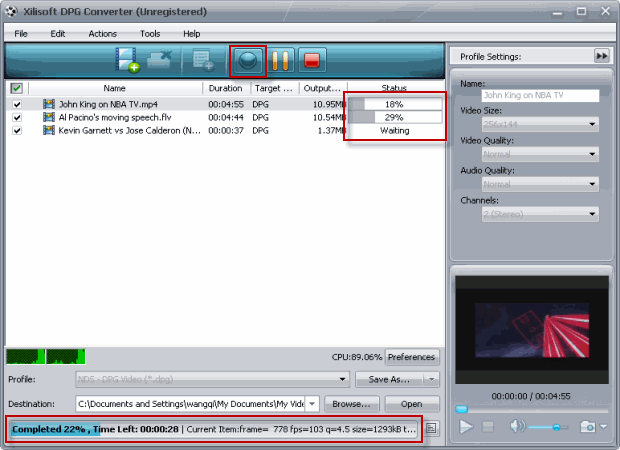 In just a few minuted (the conversion time depends on the size and length of the movie) you'll be all ready to take your movies and videos with your anywhere on your Nintendo 3DS XL.